Monotone interview
We're very pleased that we can present you an interview with Monotone feat L.A.Work (many thanks to Alexander Louvet!), known from the hits Monotone, Episode II, Monotone Generation and their latest release Take Me Higher. Let's fire the questions!
LEUVEN – We are waiting in the Domus pub – one of the famous pubs in Leuven who has an own brewery – for Alexander Louvet, artist, producer,… of Monotone feat. L.A.Work and Exta-Sea. He was stuck in traffic and got rushed into the pub a little bit too late. We didn't care because this man seems to be a very nice, humorous, cooperative and very busy man. He orders a Domus house beer and starts telling. He is a real 'spraakwaterval' as we would say in dutch.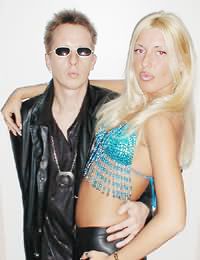 How did you get into the music business ?
Alexander: As a 16-year old boy, I already knew that I wanted to find my way in the world of music. So when I became 18, I quit school immediately, grabbed all my savings and left for London, England – the city of the Beatles – so the place to go.
Once there, I realized that it was not all 'milk and honey'. Fortunately I was picked up temporarily from the streets by the Sex Pistols for my language knowledge. I speak French, Dutch, German and English.
After this period I worked for 1 year together with The Bollock Brothers as tourmanager, touring over Europe .
Having acquired all these experiences, I found it was time to start with my own project and Lattice work. was born . With the release of the first maxi – vinyl "In Memoriam" produced by Luc van Acker, it was a start up, but I wanted to break with it.
For me it started all really with the foundation and the succeses booked with L.A. WORK in 1991 and the worldwide releases of "Is it real …", "I like Sex", "Crazy Boy", and "Diamond in my heart".
In 1999 L.A. WORK recorded a new track called "Monotone" and created a new project "MONOTONE feat. L.A. WORK"
around.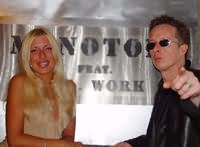 What will be the next CD Single and when will it be released ?
Alexander: It's not clear yet, let's wait for the right moment and time. At the moment Take me higher is still doing well. Most of the time we bring out a new single as a white label. If it has success, the single will come out under the name of Monotone, Exta-Sea or other.
What is your favourite track uptill now ?
Alexander: I like all my numbers, they are all good ;). I have not one favourite number that is much better than the rest to my opinion.
Can you explain why you don't get much airplay on the radio here in Belgium?
I think that one of the reasons is that Monotone feat. L.A. Work has always stayed in the club scene. If we want to reach the large public, I think we have to get more commercial and more important is getting a face. Take me higher is actually the first single with a face. Before, I had a computer screen on my head during performances. Most people found that completely wacko, but if you watch now the Belgian tv show Man bijt hond you see more people doing that…laugh ;). It had some advantages. After the performance I could go into the public without being recognized and I could ask the people what they thought of the show and getting a true answer. I believe this screen made Monotone famous. In Belgium they didn't want to know about it in the beginning, but after the first presentation of Monotone at Free Feesten Brakel in front of over 10.000 people, it became very popular. A second reason is maybe that I am the only belgian producer coming from the german speaking part of Belgium.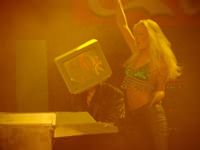 Which performances (clubs, awards, …) or DJ-sets will you never forget? Do you have some funny stories or anecdotes ?

Alexander: As you maybe know, we do performances in different clubs but if you really want an unforgettable, exciting show you have to ask for Monotone feat. L.A.Work together with the robotshow. It concerns here a show with fire-breathing, erupting robotmen and I assure you that it is an excitement. Unfortunately it's a risky business and sometimes it goes wrong…sometimes even before we get into the club 😉
Monotone is a very flexible project. You want us to perform this evening or tomorrow, just call us, I grab my synthesizer and call the others and you got your show.
One time we rushed to a club in Luxembourg. Almost there, I saw that the robots were also arriving…but too late…in front of the clubdoor we had a frontal collision! Everybody was rushing out of the club for seeing what was going on…I got out of the car and said 'MONOTONE'. They liked it!!! For them it was all part of the show, for us it was an expensive joke 😉 But the show must go on…so we decided to get on stage and to arrange everthing later. One of the robots could not laugh with the fact that his car was damaged severely and got mad on stage. Excited by the previous happenings he caused an enormous flame which reached the sealing of the stage. One by one the spotlights exploded…
Another nice anecdote and something I will never forget is the day we went to the Rogierplein in Brussels – a very crowdy place with a lot of traffic – for a photo shoot. Walking around there, dressed in my robot suite with the computerscreen on my head, I was apparently distracting the traffic. A few minutes later the first collision was a fact.
I hear a lot of positive reactions on your performances on stage. People who saw you and Gitte performing are really enthousiastic. What is your secret do you think ?
Alexander: If people want to see something special or commercial, normal or completely wacko…we can give it. Of every number we once made, a lot of remixes are available going from commercial to trance, house and hardcore. A performance in club Carre will not be the same as one in the Cherrymoon or the Carrat. We adapt ourself to our public and we see that the public is adapting to us.
We are simply the way we are, means we have fun and enjoying our shows. I think that people can feel it and they feel the same..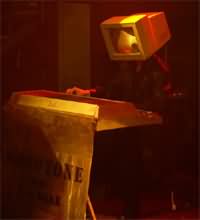 Are you working on other projects at the moment? Are there already other releases waiting ?
Alexander: I am working on different projects but at the moment I am really busy with the promotion of Take Me Higher, the latest release of Monotone feat. L.A.Work. I do everything myself going from making the music, remixing, producing, graphics for the cd and vinyl and the promotion!! For the rest I have projects such as Exta-Sea and I have still a lot of other things, dreams to accomplish e.g. I have still a lot of plans with my single The king. Don't forget also that of every number exist a lot of remixes.
Do you spend a lot of time on the internet ?
Alexander: I think the internet has become a very interesting and important medium for all kinds of purposes. For me the internet is very important as I do all the promoting myself, but also to get into contact with different people all over the world. I developed my own website which I update very often with the latest newsitems about my projects.
What do you think about music on the web – downloading mp3's, sites like audiogalaxy,… ?

Alexander: I don't believe that the real music lover will only download the music from the net. I think he will use it to prelisten the number before buying it in the recordstore. Speaking for myself: I always want the original cd! Let's not forget that the downloads kill the artists!!!!
Do you think that the cd will disappear in time? What is your opinion on the worldwide digital sale of music?
Alexander: I am not sure of course, but I would not be surprised if the cd will disappear in time.
This interview was made by Bren
Welcome !
to DanceVibes, the site dedicated to belgian electronic music. We bring you daily updates on all that is happening in the dance scene.
more about dancevibes.be
Cool sites
Check out these sites:
Archives
Not so fresh news: