Jessy interview
Jessy is back with her new single Look @ me now. A perfect time for an interview!
How did you get into the dance/trance scene ?
This was all a coincident. I've grown up between the orchestras and the musicband of my parents, so I wasn't really prepared to do something in the dance scene.
But via via I heard that the people from the Mackenzie were looking for a singer. After a voice test I was immediately offered a contract.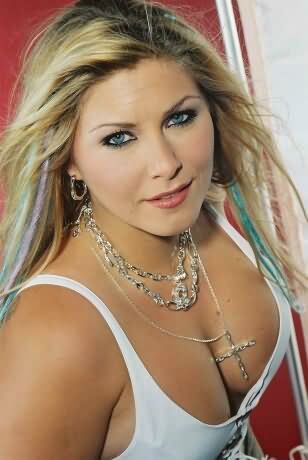 The songs Innocence, Falling in love, All I need, Alive are all superb trance/dance classix.
How comes that they aren't too known outside of Belgium ? Were they too 'early', as only now a lot of Belgian dance tracks are released around the world.)

I don't really know the real cause. I wouldn't say they came too early, I think it's more about having the good contacts in the music business and getting a good deal from them. I've never had any insight on this as I was primarly concerned about the music.
Why did you leave the Mackenzie ?
After singing for 5 years for the Mackenzie last year my contract ended and I had the feeling that I wanted to do other things. I didn't take this decision lightly though. Right now I'm having a lot of fun so I really think I made the right decision.
What are your career goals for the future ? What do you want to achieve with your solo career ?
I really hope to breakthrough in other countries too. It seems that there is already a lot of interest coming from other countries and the single has only been released recently. I hope to give you more information soon about that soon.
Is a solo album in the works ?
Yes! I had a lot of time after I quit the Mackenzie to write new tracks and try out different things. Not all songs have been finished yet, but they will be soon! We expect to release the album in the first half of 2003.
How is the cooperation between you and Regi Penxten ? Any differences in working, then with your previous producers ?
The cooperation runs very well, either with Regi or Filip or the recordcompany AGM. Making songs is a bit different with them as I now first write the lyrics and the melody and the music is later written by Regi and Filip. With the Mackenzie I wrote lyrics on already existing music from the producers.
What are the first reactions on your new single? Is there a lot of interest from other countries ? Is Radio Donna supporting your single ? (airplay, …) (it seems to be pretty important to get their airplay to have a hit in Belgium)
The first reactions are pretty positive. I had the feeling a lot of people were waiting for me to bring out something new and I think they can appreciate the result Look @ me now. Hopefully other countries will follow, but first let's concentrate on Belgium.
Do you have any favourite producers who should make a remix of your new single Look @ me now ? (Belgian or other..) Are other remixes planned ?
In the mean time we have the DJ Philip remix – a remix I find very good. I expect that new remixes will be released when the single is released in other countries. I'll keep you posted!
Are you going to release non-dance music too ? Eg. a ballad ?
That's one of our plans. We want to experiment a bit on the album and see what the fans think of it. There will be surely a ballad, an R&B and a funky song on it.
What do you think about MP3, Kazaa ? Does it help to ease the breakthrough in other countries or are there only negative side-effects (lost sales due to copying)
It's not good for salesfigures, but there is not much we can do to stop it.
Do you have time to internet ? Which sites do you visit ?
I'm a regular visitor of music sites (like yours) to keep up-to-date with the latest music news.
Which track is in your opinion the best (Belgian) dance track ever made ?
This is a very difficult question. There are a lot of good songs. I really like Sylver and Milk Inc.
Currently there are a lot of dance tracks that cover 70ies/80ies/90ies hits. What do you think about it ? Would you like to make a trance cover of an old hit too ?
I think it's fun. As long as the song stays good, I don't have any problem with it. I also have a few oldies I would like to cover.
Who's your favourite DJ ?
Unfortunatly I don't have a lot of time to go the clubs where big DJs are playing at the moment. But when I still went out every weekend until the early hours, one of my favourite DJs was Kris Kastaar (probably not known by the general public but a very good one!)
What's your favourite Belgian club ?
As I live in Zottegem, my favourite club was the Krypton (Sotto's). I knew everybody, the music was great and on friday very cool parties were organised. The last few years I've been there mostly for performances though.
What were the best moments in your career until now ? What were the worst moments (if there are any) ?
One of the best moments was the year where the Mackenzie and I were nominated multiple times for the TMF awards and actually won the award for best album and best dance.
I didn't have any bad moments as I'm fairly optimistic even when things get rough.
Anything that you absolutely want to say to your fans / visitors of this website ?
I want to thank everybody who kept on writing mails during my absence and offcourse also the people who have already bought the CD Single. And see you on one of our shows !! And don't forget to visit me on www.jessy-music.com where I'll respond personally to your messages!!
This interview was made by Wim. Don't forget to check out our review of the cdsingle Look @ me now !!
Welcome !
to DanceVibes, the site dedicated to belgian electronic music. We bring you daily updates on all that is happening in the dance scene.
more about dancevibes.be
Cool sites
Check out these sites:
Archives
Not so fresh news: