Jan Vervloet interview
Everybody knows the hits from Fiocco, The neighbour Dj's,… Well, now we can present an interview with the person behind these projects Jan Vervloet! Here are his questions and answers!
How and when did you get into the dance/trance scene?
Jan: I'm already buying records since I was 7 or 8 years old. (the record store was only 4 houses away). It started with hitparade cd singles, later these were replaced by albums of Art of Noise, Kraftwerk and Howard Jones. After that came Body with Front 242 and Fad Gadget. Eventually this ended up in the Acid and New beat era
Everybody is waiting for new Fiocco/Scoop/Neighbour DJs tracks after the big success from a few years ago. Are there plans to produce new tracks?
Jan: Yes, you can expect probably still this year new work by Fiocco and Neighbour DJs.
How are the reactions on the Afflitto 2003 remixes ? Any plans to put Fiocco – Afflitto 2003 on CD Single?
Jan: The reactions are better then expected. When the wholesale vinyl dealer asked us to produce more Afflitto vinyls I decided to create a few extra mixes because that's more interesting for me and you 🙂 The reactions from Germany are the best: being on playlists of big DJs like Paul Van Dyk, Blank and Jones and Johan Gielen (Belgian/Dutch dj) is not that evident.
On your discography page at www.janvervloet.com, we can see that you didn't release as many tracks as other years. Was this a concious descision or just a calm period and a silence before the storm?
Jan: The last 2 – 3 years, I was the studiowork a bit tired. I couldn't appreciate any dancerecord. I tought I had seen it all in the dance scene. So I took some holiday, did a lot of sports. But since the beginning of this year(2003), I've got the taste for making music again, with much pleausure (even more than before). Every day, I'm at my studio! So Watch Out!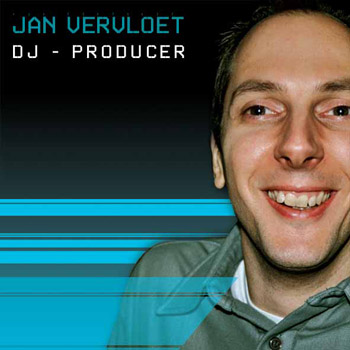 What do you think about the Belgian dance/trance scene and the current Belgian successful projects? How do you see the future of this?
Jan: It's very positive that projects like Push, Sylver, Lasgo, Milk Inc., Ian Van Dahl, Kira,… have much success abroad. Ok, we (Belgium, The Netherlands, Germany) have almost seen it all with Dance, but for example in the USA and the UK, Dance still has to break through. For them it's completely new, since recently only rock, rap and rnb were in those charts. In Belgium, it's the other way around, the dance-hype has weakened and the rnb hype is increasing.
Is the Belgian Dance/Trance music enough supported at Radio and TV?
Jan: No idea, I almost never watch TV and only listen to the radio in my car.
Do you get many visitors on the official janvervloet.com site? (foreign reactions)
Jan: Moderate, not a little and not too much, but the site is a year online and there have been about 10.000 visitors (but after this interview I guess it will rise quickly 🙂
Which projects/remixes/… are you doing at the moment (and in the near future)?
Jan: I have done several remixes for other artists like Tiny K, DHT, Lasgo, Ian Van Dahl, Jessy,… I also made some new mixes of own productions like Fiocco, Thunderball, Razzle Dazzle Trax,… And of course a few brand new songs, which you may expect in September.
Do you think the lowering of taxes on cd's will get the music business out of this crisis?
Jan: Hopefully, but I'm afraid it won't, I think there's a crisis in all the sectors, my parents have got a furniturestore and my sister has got a clothing shop; they also notice this crisis.
What do you think about initiatives like www.sms4music.com where it's possible to download digital music legally?
Jan: Maybe it's a step in the good direction, who knows!
What are you plans for the future as a Dj? (Belgium/abroad)
Jan: At the moment, I want to dj only as a guest dj, I already had some offers to become resident t clubs, but at the moment I don't feel like it yet. I like it much more when I can dj every weekend in another club and to raise cain. (maybe in a year, I'll think about that differently)
Which dreams do you want to realise in 2003?
Jan: Actually the same as I have been doing the first part of this year. Dj a lot, make new records, make nice remixes, good sex, good health, snowboarding, tennis, going out a lot and sleep out a lot!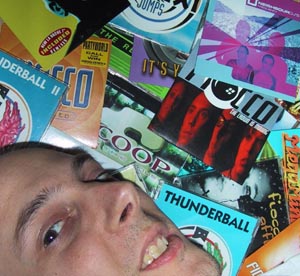 More info about Jan Vervloet and his work can be found on the Official Jan vervloet Website! www.janvervloet.com
This interview was made by Wim and Civa. Thanks to Jan Vervloet for making this possible !
Welcome !
to DanceVibes, the site dedicated to belgian electronic music. We bring you daily updates on all that is happening in the dance scene.
more about dancevibes.be
Cool sites
Check out these sites:
Archives
Not so fresh news: