Dee Dee interview: questions about Forever and The One!
Dee Dee recently released her new single called The One. Time for an interview!
Let's start with the beginning. How did you get into the
music business? Was it by accident or is it something you've always dreamt of?
Well, after school and in my free time, I was always busy with music. But then there was a night, I went out, and there I met Tommie Kidjemet (Who is one of the producers now). After a little talk, he offered me an audition in Christophe and Erik's studio. (The 2 successful producers behind Ian Van Dahl) They were very exited about the result, and now I'm standing here as DeeDee.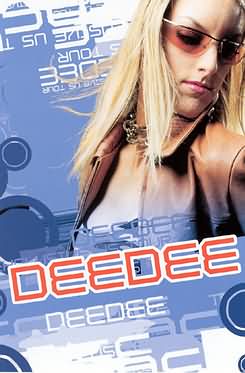 Everyone knows the first single Forever. What do you expect of the second single The One?
I prefer not to expect too much, so I won't be disappointed afterwards.
What is your favourite remix of Forever and The One?
My favourite Forever-remix would be The pulsar remix from the UK, and I really like the Peter Luts Remix of The One.
Will The One be released worldwide?
Yes, after Belgium there are a lot of countries that will follow like Spain, USA, Germany, The Netherlands and the UK.
What are the first reactions on your new single The One? Is there a lot of interest from other countries?
If I read my guestbook on my website, I can say that there are some very good reactions, aswell from the foreign countries as from Belgium. There are some people who even think The one is better than Forever, and we've got some very good reactions from the UK already, which is an important market to us.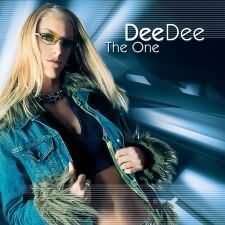 Do you have some funny 'on-tour' anecdotes?
Oh, there are a lot of anecdotes I can tell you, but I'm only gonna tell you one 😉
I did a gig in Miami, and at the end of the show, my top went open!!! I was so embarrassed!!! But afterwards I heard that almost no one had seen it, so I was lucky!
Which performances were the best?
I really like performing in the UK and then especially in Scotland. People over there are amazing!! They scream all the time while you're performing and they actually 'sing' along, I think it's great!
Is there a difference in public between countries?
Every country has its own culture and own way of working, so I think it's logical that every audience is different also.
Did you already meet well known other popstars?
Well, there you are, on a poster together with Danni Minogue or Blue. It still takes me by surprise. Together with my tourmanager and dancers we try to make the best of it.
What are your career goals for the future? What do you want to achieve with Dee Dee?
Well, actually Dee Dee isn't a project. Dee Dee is me as an artist and I want to make a full crossover from dance to dance-pop to pop in the short term.
Do you have any favourite producers who should make a remix of your new single? (Belgian or other.)
A Dj Tiësto remix would be great!
Are you going to release non-dance music too?
We are trying to work on different styles of music. On the full album you will hear a variated style of music going from breakbeat to dance, to a ballad or even 2-step.
Do you have time to Internet? Which sites do you visit?
Yeah I'm on the Internet regularly and then I visit all kinds of sites, going from musicsites to sites to play some games.
Which track is in your opinion the best (Belgian) dance track ever made?
That would be Absolom – Baby Boomers.
Who's your favourite DJ?
DJ Tiësto
What's your favourite Belgian club?
Atmoz or Versuz (Belgian clubs) or Blue room (Orlando – Florida)
Why in general do the Belgian CD singles have less tracks then their German/UK/.. Counterparts? (e.g. see http://www.dee-dee.be/audio.php)

There are different remixes for each country, so we put them on the respective CD-singles.
Anything that you absolutely want to say to your fans / visitors of this website?
First of all, I would like to thank all the people for supporting me!! Without u guys I wouldn't be here!!! Big kiss to y'all!!!
The following questions are courtesy of our forum members !
When is the album due?
At the moment we are working very hard on it, but normally it should be released in spring 2003.
How important is the UK market?
The UK is a very important market to us. Other countries like Australia will release the single also if a single does well in the official UK-chart.
When is your next major tour?
My next tour will be in January.
What are your musical influences?
I grew up with music from Madonna, Bon Jovi, Celine Dion, Janet Jackson, Backstreet Boys and New Kids On The Block.
Tell us a joke 🙂
It's green and it's sticking against the wall? KERMIT THE STICKER! 😉
Are you single? 🙂
No, I have a boyfriend.
I would like to know when THE ONE would be released in Germany and other countries. It seems that Belgian artists are neglecting other countries (except for Spain, maybe) and are concentrating themselves on
UK market/fans only…
I don't think the UK market is important only; we try to pay a lot of attention to the other countries also. But every country has is own culture and his own charms and every audience is different. The one will be released in January all across Europe.
I would like to know what KOVAC (in KIDJEMET & KOVAC MIX) stands for ?
My producer Tommie KIDJEMET works together with another producer Steven KOVAC, and they have made several remixes with the name KIDJEMET & KOVAC (like Lasgo's Pray, Ian Van Dahl's Try and several others.
This interview was made by Wim.
Welcome !
to DanceVibes, the site dedicated to belgian electronic music. We bring you daily updates on all that is happening in the dance scene.
more about dancevibes.be
Cool sites
Check out these sites:
Archives
Not so fresh news: