D-Devils interview
Pieter Jan, producer of the D-Devils, founded a new project namely The Red Devil Anthem!!! You could probably not have a better idea in a period that the temperature is getting hotter, football fever is increasing and people start going crazy for the red devils playing in Japan!!!
We asked PJ where the idea came from, whether he believes in the belgian football team and what other things he is working on.
Where did the idea come from to make a single for the belgian Red Devils?
In the past we have always been related with a devil using the name D-Devils. Further, we have been making a promo tour at the end of 2002 visiting the different clubs in Belgium together with Red Devil, a new energy drink.
And last but not least the belgian Red Devils off course…now you have 3 elements that fit perfectly. This was an opportunity that we had to take!!…and apparently the public agrees with us.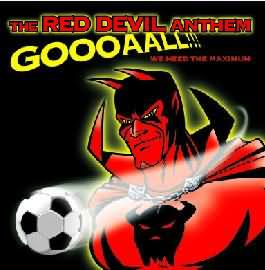 Are you a football fan?
A world championship is off course muuuuuuuch more than football only. The atmosphere…it's that sphere that makes it so much fun. And this is also the aim of our new track: create as much atmosphere as possible! That's also the reason why there is an Euphoric Stadium Goal Mix as a third track on the single.
It would be great if this mix will be played hard out loud every time the belgians score (and this happens hopefully a lot of times.)
Did you play football yourself in the past and in case the answer is yes…when, where and what place on the field,..
I have never played football. Not taking into account the lessons sports at school off course J
Mhh, did not represent much, though…;)
What is your prognostic: will Belgium win from Japan, Tunesia and Russia?
Whether Belgium will conquer the three teams of the first round, I don't know. But they will pass on to the next round. Don't underestimate the Red Devils!!!
And who will become, according to you, the new World Champion?
I HAVE to answer: Belgium. We have to believe in our team!.
Our single start with Get ready for the best football team in the wooooooooorld!!!!! J
Who is your favorite football player?
My dog!!! He knows how to play. Hehe.
And now some more general question: Are you busy at the moment with new projects, singles, new releases..?
At the moment I am enjoying the last days of my trial period as IT engineer.
Afterwards I have the intention to build out further my record company and to give birth to some more success full projects.
You can always find some more info on www.outworld.be.
I can tell u also that something very nice is coming up very soon….but I will keep it a secret for a while…but I'll keep you guys posted.
You can find more info, music,… on our dancevibes pages, www.d-devilsfanclub.be and www.d-devils.com
This interview was made by Bren
Welcome !
to DanceVibes, the site dedicated to belgian electronic music. We bring you daily updates on all that is happening in the dance scene.
more about dancevibes.be
Cool sites
Check out these sites:
Archives
Not so fresh news: