Club Versuz – DJ Dave Lambert interview
How did you enter the DJ scene?
It all started for me in 1990 when I played rock music as a DJ in a club called PARADOX.
Years later the club shut down and I started to get more into house music…became resident in SUR PLUS
and BAYSIDE Beachclub. Here I got noticed by the owner of LE BEAU ZOO where I started and stayed 4 years!
LE BEAU ZOO was such a hype in Belgium that when the club was sold I started in Benelux largest venue called ZILLION.
Now I play in Versuz
Which style of music is played in Versuz ? Are there different rooms ?
I like all sorts of music and I always try to give a good refelection of that in my sets.
So in Versuz on Saturdays you can hear me play Groove, Progressive, Trance, Techno and Elektro!
Bart Maes and Tom Leclerq also stay in the same line…so in general you can hear the best groove,
trance, progressive, techno and elektro has to offer!
Versuz has also got 2 other rooms than the mainhall: R vs B Lounge: DJ Sense and MC Peanut bring you the best R'n'B
and Hip Hop! Kaffée Rouge with DJ Jeff V brings the best top 50 hits and groove music.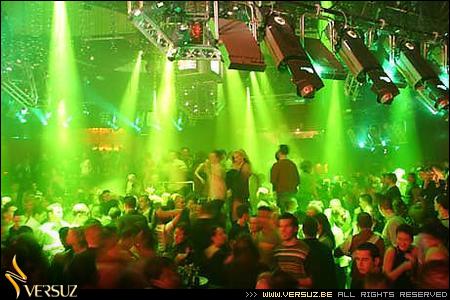 What are in your opinion the strong points of Versuz it has over the competition ?
Well Versuz is a unique concept for a start. Versuz has it's own sound and style which is real fashionable and trendy.
The club is always crowded and has an atmosphere like nowhere else! Versuz also keeps on trying to innovate and every Saturday our visitors can expect something different
from the week before. Versuz also had all the big DJ's as their guest!
Previous guests include Tiesto, Armin Van Buuren, Ferry Corsten, Marco V, David Guetta, Todd Terry, Erick E, Who Da Funk,
Lucien Foort, DJ Gee, MIKE (Push),….
Not a lot of Belgian clubs also had a resident night in IBIZA (Space) and Portugal (Kadoc)….
Then last but not least the sound and light is truly amazing + Versuz has one of the biggest official capacities in EUROPE!
Can you give an overview of the resident DJs and their musicstyle ?
MAINROOM:
Tom Leclerq: used to be resident in Extreme, Zillion, Arenchi, … he plays more groovy and progressive and plays from 22h till 01h every Saturday
Dave Lambert: used to be resident in Le Beau Zoo, Rêve D'O, Zillion, … He plays different styles: As Dave Lambert groove and progressive as MINIMALISTIX trance and progressive check out www.djdavelambert.com
Bart Maes: he's a real veteran and has played almost everywhere: La Rocca, Le Beau Zoo, Zillion, Carré, Mondial,… His style ranges from trance to progressive into groove. Check out www.djbartmaes.be!
R'vs'B LOUNGE:
DJ Sense and MC Peanut bring you the best in R'n'B and Hip Hop!
KAFFEE ROUGE:
Jeff V bring the best commercial dance and groove music with a touch of disco
On Mondays: MAINHALL
DJ Laurent: this guy is amazing and one of Belgiums best commercial DJ's he plays r'n'b, groove, happy house, trance, retro classics, disco and 80's in a perfect mix. Check out www.djlaurent.be!
On Thursdays: MAINHALL
DJ Hans: on thursdays we have student nights with DJ Hans who brings all the hits and more than the hits! Check out www.djhans.be!
On evenings before Bank Holidays we organise Excuse To Seduce: always with an international or national guest DJ
On Fridays we sometimes organise events with big international top DJ's like Tiesto, Armin Van Buuren,…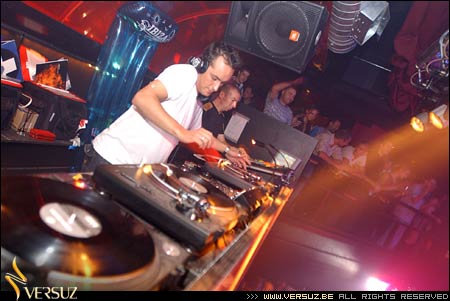 What kind of music can the people expect when buying Versuz 3 ? Are there any soundsamples online ?
You can expect the real Versuz on Saturday sound on this compilation!
So a wide range of groove, trance, techno, elektro and progressive in a perfect mix!
Listen to some music samples on www.versuz.be!
What can we expect for 2004 in Versuz?
Well we will keep on giving all we can to give our vistors the best night ever!
Further more we will try to keep on bringing big international dj's to VERSUZ and offcourse we will do some unexpected
things in 2004 where everybody will see that Versuz has always the best to offer!
What are your own expectations for 2004 ?
In 2004 I will be hitting the studio bigtime!
You can expect new MINIMALISTIX releases and I will also be starting to release under my own name as Dave Lambert
which will be more groovy/tribal and progressive productions.
Keep checking www.djdavelambert.com for regular updates!
This interview was made by Wim.
Welcome !
to DanceVibes, the site dedicated to belgian electronic music. We bring you daily updates on all that is happening in the dance scene.
more about dancevibes.be
Cool sites
Check out these sites:
Archives
Not so fresh news: