Airwave, L-Vee, Fire and Ice interview!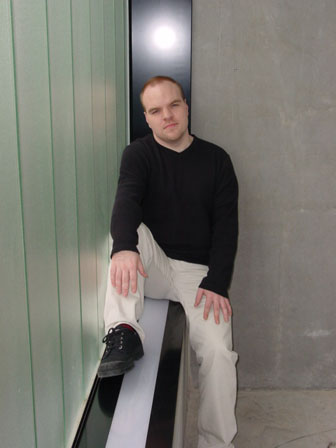 Here is our interview with Laurent Veronnez, the man behind projects like DJ Airwave, L-Vee, Lolo, Velvet Girl and Fire & Ice (together with DJ Fire).
These names may not rinkle a bell for everybody, but nevertheless L-Vee is highly regarded in the international trance music scene.
Could you first tell us a bit about yourself? Hobbies, interests, pets, … ?
Well, I might be the guy living next to you!! I have a quite normal life for a dj/producer.
My hobbies are mainly part of my digtal lifestyle, computers, music, graphics
(I used to draw a lot of comics when I was about 12), internet of course (I spend 5 hours a day on the net, easilly).
For the rest, besides my job, I spend as much time as I can with my fiancée Melody.
I hope we will be able to marry soon. I've had pets in the past.
All I have left is goldfish in sum kinda oldskool/cliché aquarium. Its name is… Arthur, lol!!!
How did you enter the DJ club scene ?
Djing wasn't exactly my goal. Thing is, I entered dj'ing alongside with producing dance music, back in 95/96.
Back then I was a big fan of Yves Deruyter, I'll never forget that 5th birthday party in Cherrymoon.
Although I never expected becoming a dj, producing records helped me building up an international profile that I'm very proud of.
Then, the bookings came by themselves. Since then I've played in Japan 3 times, South Africa, South Korea, England, Scotland,
New Zealand, Canada. Need I say more? Meanwhile, I never felt being part of the belgian dj-scene,
as I have the feeling the belgian promoters never read magazines or listen to dance radios,
so I never really got my chance in Belgium, except a couple of belgian dj's I'm very good friends with!
Which styles do you play ? In which clubs have you been playing?
I can play any style, but I'm deep into that progressive trance sound, I have always been in fact.
An Airwave set depends on the venue. But in general, I begin quietly and end my sets very very hard!
Some people can tell. It's a journey I'm trying to build. Sometimes I even play old classics everyone forgot,
as I think, there's so much good music from the past I couldn't live without!
I've played many gigs in the UK basically. Twice in Gatecrasher, Twice in Godskitchen
(once being alongside with Paul Van Dyk), three times in Slinky, and that in 6 months time.
I've played in one of Tokyo's biggest venues, Code, but my best souvenir as a dj was definitely
the party in Auckland, NZ, for New years eve, in the CITY HALL of Auckland.
There are other clubs I've been to recently, like Dockside in Cape town, Serious/the Cross in London, the Gallery,
Peach (Graham Gold's club, a good friend too)… Too many to name them all!!!
What were your best DJ gigs? Best memories?
Well as I just said, New Zealand will be my best souvenir as I met Graham Gold,
with whom I had to play in the city hall. The man could esaily write a book about international clubbing and dj'ing.
I respect him a lot for staying the same young guy.
When did you start producing and why ?
Producing… Well it's a long story. When I started making music, I was totally into that ambient and movie scores thing.
I just grew up with it. Then back in 94′, I remember that day very well, I was drawing in my bedroom,
while listening to the radio, the station being radio crystal, broadcasting lazer programs,
and I heard some king of dance music I had never heard before… That being trance…
Thought I could do that too, so I put a lot of time into it.
Two years later, I got my very first record contract!
Can you give an overview of the projects you are involved with ?
I suggest you visit my website for a complete discography (www.djairwave.com),
but I have in total more than 30 different project names.
The most important being: Airwave, Fire and Ice, The Green Martian, Lolo, Planisphere, Cape Town, Antidote, Body shock, …
Too many to mention (100+ records and 50+ remixes released)
You are part of Fire & Ice, how did this cooperation with DJ Fire start?
Oh, dewd, that is crazy how it began. I remember having a good time with Jurgen in Berlin at the Love Parade
on the Bonzai truck. So when we got back to Antwerp, on the road, we started discussing as Jurgen told me he was
producing records. 5 weeks later, Jurgen went to Brussels to work with me, 3 hours later he left with the dat of
our very first track, that being Lost Emotions.
It's always that fast with Jurgen, that's why he's my partner in crime.
We've known each other for so many years, we exactly know what to go for, we don't have to speak anymore!!!
He is definitely together with Yves part of what I've become in the dance business.
Thanks guys, thanks a million!
Will there be a Fire & Ice album?
I'm not sure there are real plans for a full album. We've just released a new single, so, we'll see.
In those horrendous times in the music business, you can't take too many risks, especially with albums,
they cost an arm and a leg for them being pressed, deisgned, mastered, marketed, etc… For almost no income.
The internet is changing the rules in the bizz, but that's for another question 😉
Anyways, we'll keep on releasing singles under the Fire & Ice moniker, and the tracks will be soon available
apart for cd's on demand on the bonzai store (www.bonzaimusic.net),
so I think it's not a very good idea at this moment. But I surely would like to do it!!!
Did you have any music training ?
I've spent 6 months at school for music lessons, back when I was 15.
I discovered I had a perfect ear, and that I could see notes as colours, and not as values anymore.
I haven't read a score since then. I just need to hear a note or a melody once, to be able to play it back directly,
of course as long as it's not too complicated. I've been playing the piano for 12 years,
and now I'm training with my guitars… The para siempre sound is in fact my electric guitar!!!
Your full album 'Airwave – I Want To Believe' is going to be rereleased in March. Why is it being re-released and what are your expectations for the album ?
It is being re-released as we think it is a good opportunity.
When it got released back in 2002, the business was really going bad for Lightning Records,
so there was no promotion possible. But, when the idea of re-releasing came, I got suggested by Marnik,
to put out a 2CD edition, with unheard or unreleased material. Thought it was a good idea for those who didn't find
the cd the first time. And I must say, thanks to all the recordshops in Belgium for returning the cd's to their distributors
only 2 weeks after release!! That's something I'm very pissed at.
Will there be any singles released from the album?
OOOOOH yeah, Ladyblue being the next one, with 4 mixes, on 2 separate vinyls, then we will have other surprises,
and again unheard material that's not even on the cd's, from 3 or 4 years ago.
My desks are full of cd's with unreleased Airwave material, so get prepared!!!!
What advice would you give for someone who wants to break into music production.
In particular, what software or hardware would you recommend for starters to learn music production
considering a limited budget?
If I can give some advice, know the rules before you want to break them. That's my first one.
Secondly, don't expect making music without at least some knowledge of the basics of music, then technology.
This is sumthin I can't stress enough about. It's quite important and will give you much more depth, musically!
Of course REASON is a fantastic program I use all the time for making loops. It's also a cool program to start with.
But I suggest the mac users (like me) check out Apple's new baby: garageband, it costs 59 Euros, and I think it's a great
virtual studio. Some king of hybrid between Acid on the pc, and the sample part of Reason.
With the latter, you even don't have to know how to play music, and it's a piece of cake to use!!
Of course it's only for the mac.
Oh yeah, last thing, forget about those blue screens of death, and those freezes,
and conflicts, and get a macintosh instead of a windows computer! lol
What are your goals/dreams for 2004? What can we expect of you in the future?
I have a dream, you know what it is? That people finally admit to themselves they close their eyes
to forget the horrendous life we lead at the moment. We're behaving as no one is homeless, as no one dies from hunger,
and as selfish people!! I absolutely think people who close their eyes are even more criminal than the criminals!
We're in 2004, and we still need to create an artistic movement for homeless people in belgium.
If I can get enough people around me, I would like to create a movement to support homeless people,
and get to the tube stations at night or anywhere else, and distribute food and drinks!
That is my dream! I have totally no respect for people who think there's nothing to do about that,
and that they don't even have money themselves to give away!!
In the future, I have ONE big plan, but for some reason as I'm not sure it gets released ever,
I'm not going to talk about it, it's too early, I can just tell it's finished.
What do you think about selling music via internet ? Where do you think the music bizz is going?
(and Banshee Worx/Bonzai in particular)
You really want to know? Well with the sales decreasing as we've experienced for the last 3 years,
with all those labels going bankrupt, with all those artists losing money…..
I have for sure all the reasons to be pissed at the mp3 format. But I think we need to live with it now.
First thing to do is making sure illegal downloads dissappear. For that we need a legal mp3 store on the net,
that must be quite cheap, and that delivers simplicity and lots of options (I can't wait for apple's Itunes music store
soon in europe!!!). Secondly the ISP's must STOP being big liars and saying they want to fight against this kind of piracy,
as they do everything to attract people by illegal downloads (all the broadband isp's do that!!).
It's like closing your eyes, thinking you're not responsible of the horrible things happening outside.
What do you think about the dance scene in Belgium ?
I think there was a lot of confusion, that was born when some dance producers started producing
some kind of dance/pop music. I don't want to get into this debate, as I think there is a LOT of good dance/pop music,
it's just a question of taste, there is no bad music at all!!
We definitely need pop-ish dance acts to keep the genre alive, but I think belgium is like a dog biting its own tail.
There were too many of those acts making something they didn't like for money.
I'm not a good judge, but I can tell it's definitely not a thing to do.
Something I'm really PISSED at: I've seen many acts trying to sing in French on those pop records,
especially from Flanders. Sorry, ladies, you are pretty but PLEASE don't keep killing my mother language that way.
Maybe I should release a french record once… Just to show them how to… 😉
Anything you would like to say to the dancevibes visitors ?
Dancevibes is a site I check regularly as it has lots of info I think that is interesting.
A very good site about dance music that covers all genres, them being popdance, or progressive, congrats to you!!!!
More info about Airwave can be found on the Official Airwave site!
This interview was made by Wim.
Welcome !
to DanceVibes, the site dedicated to belgian electronic music. We bring you daily updates on all that is happening in the dance scene.
more about dancevibes.be
Cool sites
Check out these sites:
Archives
Not so fresh news: