TLD
Biography
In June 2002, TLD alias Anneke van Hooff (03/05/1978), became the absolute winner of the Taft Live Discovery (TLD) Competition, organized by Taft Styling and Live Hair Colors on Radio Donna and the Belgian musicchannel TMF.
The TMF and Radio Donna audiences were asked to elect the most trendy and catchy new dance act.  The song Como te Quiero, written by Ariane Jansoone (Prism, DJ Mellow), was then remixed by Regi Penxten (from Milk Inc.) and immediately became Radio Donna's Summer Hit, making TLD the official opener of the Radio Donna Summer Tour 2002.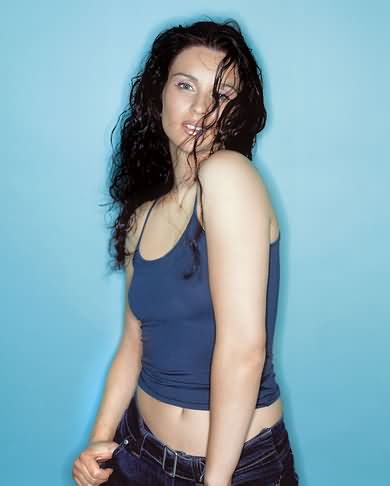 However, this does not mean that Anneke Van Hooff suddenly appeared out of the blue. There is a whole history leading up to TLD. Anneke's musical career began at the age of 9, learning how to play the violin, hobo and piano. When she turned 11 she appeared as a guest vocal on the CD of VTM's Mini Playback Show and performed more than once alongside Frank Van Dingenen in several of his TV Shows. It wasn't long after that when Anneke played her first major role as 'Pepper' in the musical Annie, directed by Jos Dom (Antwerp Theatre '93).
After having completed the first two years of Classical Music Studies at the Antwerp Conservatory in '99, Anneke decided to follow a musical course at the Tilburg Musical and Dance Academy. During that period she performed in several musicals such as The Secret Garden, The Wizz, Tanz der Vampiere and A Chorus Line. She also went on tour with Night of the Proms in '97 and '98 throughout Belgium, Holland and Germany.
In addition to the musical training, Anneke enrolled in several theatre courses in England such as Cygnet Theatre Training in Exeter and the Guilford School of Acting. She followed singing courses from Bernadette Degelin, Edward Hoepelman, Jack Breikers and Gini Veld.
And then in June 2002, Anneke was asked for the Taft Live Discovery Competition. She participated with the song Como Te Quiero written by Ariane Jansoone and what followed was a TOP10 hit in Belgium in no time, climbing up to number 8 in the Belgian singles charts by mid august. In the Ultratop TOP100 of 2002 they ended up on number 45.
During the TMF Awards 2002 at the end of October the follow-up single was presented: Not Alone. It climbed to nr 18 in the Belgian Ultratop single chart.
Single CDs
The following CD singles were released:
Remixes
Not Alone (Filip Vandueren mix)
Como te quiero (Filip Vandueren mix – instrumental)
Como te quiero (Filip Vandueren mix)
Como te quiero (Original mix)
Como te quiero (Original mix – instrumental)
Welcome !
to DanceVibes, the site dedicated to belgian electronic music. We bring you daily updates on all that is happening in the dance scene.
more about dancevibes.be
Cool sites
Check out these sites:
Archives
Not so fresh news: