Push
Biography
Dirk "M.I.K.E." Dierickx, a man who is full-time occupied with composing and producing. Since more then three years he is signed to Lightning Records, scoring hit after hit, and can be considered as one of the most important producers of this label.
He received national recognition in technoland with The Aggressor on the Danger label, and Return Of The Native on Tripomatic Records.
Together with Yves Deruyter, he also gained worldwide succes with D-Album, that contains hits as The Rebel, Sexy Animals, and To The Rhythm. A few years ago, The Rebel received the Move X-Award for the best Belgian clubsingle of 1997.
As a producer, M.I.K.E. was also involved in the remixing of DJ Looney Tune's 'Workstation', Space Frog's 'Lost In Space', Sadomasy & DJ One's 'Body Motion', and many others.
Knowing all this, it's no wonder that his solo-project Push, is received extremely well in the European clubscene.

Dirk "M.I.K.E." Dierickx aka Push
The first Push single, Acid Hysteria was released in 1994 on the USA Import label, a pounding acid track. In 1995, Da Story and Cybernetic Empire were released before Mike moved to Bonzai Records (Lightning Records).
Universal Nation, the first release of Push at Bonzai records in 1998 was a hard, uncompromising club-smasher aiming directly at your feet, and boy did it hurt !!! A spectacular piece of vinyl !!
Other releases include Cosmonautica, Strange world and Till we meet again
His last record till now, released in 2001, is The Legacy, a very nice tune 🙂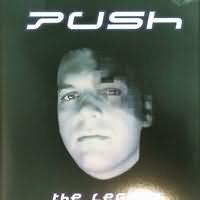 Push – The Legacy
In May 2000 the first full album called From beyond was released on the Belgian market. Even the latest single The Legacy is already present on this album 🙂 In November 2001, this album was also released to the french market with some additional remixes.
Discography
Full Album
This is the tracklisting of the full album From beyond (

):
Electro Fever
Universal Nation
Strange World
Travelogue
Cosmonautica
Till we meet again
Tranzy state of mind
The legacy
Live one
Outro
Single CDs
Universal Nation (releasedate: 15/01/1999)
Cosmonautica (releasedate: 11/05/1999)
Universal Nation 99 (releasedate: 19/10/1999)
Till We Meet Again (releasedate: 06/06/2000)
Strange World (releasedate: 15/01/2001)
The Legacy
Vinyl
Universal nation (1998)
Universal nation remixes (1998)
Cosmonautica (1999)
Universal nation (99 remixes)
Till we meet again (2000)
Universal nation (the millenium mixes)
Strange world (2000)
Strange world remixes (2000)
The Legacy (releasedate: 03/09/2001)
Welcome !
to DanceVibes, the site dedicated to belgian electronic music. We bring you daily updates on all that is happening in the dance scene.
more about dancevibes.be
Cool sites
Check out these sites:
Archives
Not so fresh news: