Monotone feat L.A.Work
Biography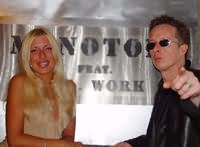 It was a new name for me in the belgium dance world till a few months ago, but nevertheless these people have already booked numerous successes in the last 2 years.
With their productions Monotone, Episode II and Monotone Generation they had two number ones in the house and one number 10 in the official Ultra Top Dance Charts. They could be heard in over 30 compilations in Belgium alone and live acts were performed for more than 200 000 people.
Monotone feat. L.A. Work consists of Alexander Louvet and Gitte. On November 1st, 2001 their latest single Take me higher has been released and was presented the first half of january 2002 in Club Dibango! In May 2002 they were the special guest of the Coca-cola euro-charts on tour in club Graffiti (Lontzen). The performance was great!!!!! Check our review and interview here!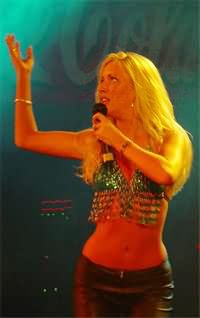 Discography
EPISODE II (released April 9th 2001 in Belgium)
Generation
Neon sky
I'm the king
Imagination
Take my higher (released on November 1st, 2001)
Welcome !
to DanceVibes, the site dedicated to belgian electronic music. We bring you daily updates on all that is happening in the dance scene.
more about dancevibes.be
Archives
Not so fresh news: