Lasgo
Biography
Lasgo is one of the most succesfull Belgian dance acts both in Belgium and foreing countries. The success story all started in July 2001 when Lasgo got their first hit in Belgium with the classic Something. It got to nr. 5 in the Belgian CD Single chart!
The very first appearance was on the Holiday Party , one of the biggest school's out party's in Belgium and TMF (The Belgian clip station) recorded the show to produce a video clip.
In October Lasgo also won the best national single award on the Belgian TMF Awards 2001! At the same time it also went gold in the charts! (25000 copies sold)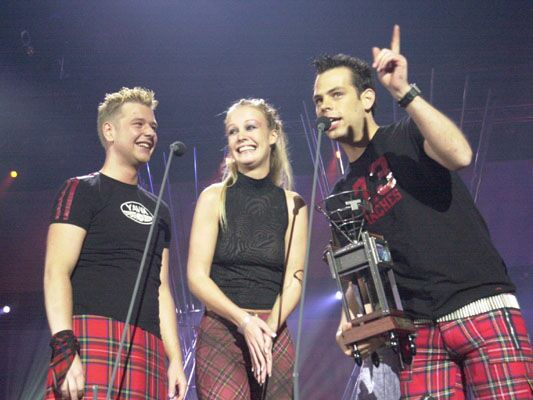 The track then went for an international career: In Spain, where the track was released simultaneously, results were great, the single was even the best selling vinyl at the distributor the week it was released! In October 2001 Something went to nr 8 in the Dutch charts, while in Germany they entered the charts at #11! On February 25th 2002 Positiva released Something in the UK and Scotland, it was also a big hit over there: they entered the charts at #3 in Scotland and #4 in the UK! They got A-rotation on BBC Radio 1 and did a lot of performances on TV (Nickelodeon, Popworld & Top of the Pops). As Something became more and more popular all over Europe, they shot a videoclip in Prague for international usage 🙂
Lasgo itself consists of Peter Luts (Producer, Keyboard player), David Vervoort (Producer, Keyboard player, singer) and Evi Goffin (frontwoman, singer)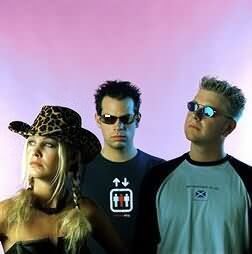 Evi Goffin, Peter Luts and David Vervoort
Evi Goffin (aka Evy) was born on 27 februari 1981 and she's from Antwerp. You may already know her as Medusa: together with Fiocco they had a nice hit with the song Miss You and New Year's day with 2 Fabiola. (a trance cover of the U2 classic)
Peter Luts has been producing for A&S Productions since 1996 and is the musical force behind Astroline. He has also done remixes for Milk Inc which are among the best and much better then the Milk Inc. radio edits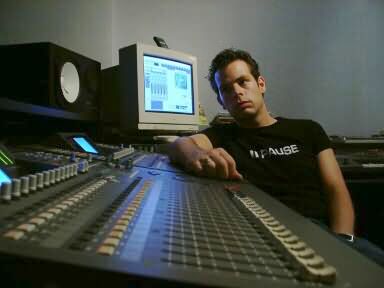 Peter Luts @ his studio
David Vervoort (aka Dave McCullen) is a singer-producer-performer who has been DJ-ing since 1994 and during that period he was guest in clubs in Belgium and beyond. He is, together with Peter Luts, the musical force behind Lasgo.
On November 2nd, 2001 their second single Alone was released on single in Belgium! This single was taken from Lasgo's first full album called Some Things which was released on November 19th, 2001! The video-clip for Lasgo's new single Alone was shot in the night of November 25-26th in a big office somewhere in Berlin. Alone went up to #3 in the official Belgian CD charts.
Due to all the success in other countries, Peter Luts was asked to remix Delerium's track Underwater for EMI Germany and also crafted a Lasgo remix for Aurora – The day it rained forever on Positiva Records (UK).
During 2002, Lasgo was nominated for quite a few awards: International Dance Club Hit of the year (with Something) and International New Dance Group of the year at the Danish Dance Awards, nominated for Best trance act at the Dancestar World music awards 2002 (which was won by Ian Van Dahl – Castles in the sky!).
In August 2002, Alone was released in the UK and managed to get to #7 in the official charts. The full album Some Things was released in the UK at the end of August.
Although rumours suggested that I wonder would be the third Lasgo single, eventually this turned out to be untrue as Pray was released almost a year after Alone in October 2002. At around the same time Some Things was also released in the United States.
In November 2002 Lasgo won the Smash Hits award for best Dance act of the year 2002 in the UK! Ian Van Dahl was also nominated in the same category. Smash Hits is a big UK Pop magazine.
December 2002 marked the release of the 2nd version of Some Things in Belgium: it featured 3 new songs: Searching, You and I Wonder; along with the best remixes of their hits.
On February 28th, 2003 A&S Productions held a big party in Club Carré (Willebroek) to celebrate the huge success of Lasgo and Ian Van Dahl both in Belgium and abroad. The event included live performances of both Lasgo and Ian Van Dahl, the introduction of a new dance act (Tara Lowé) and beats by dj's 'G-bric, Kurt, Jan Vervloet and Dimitri Chantzis.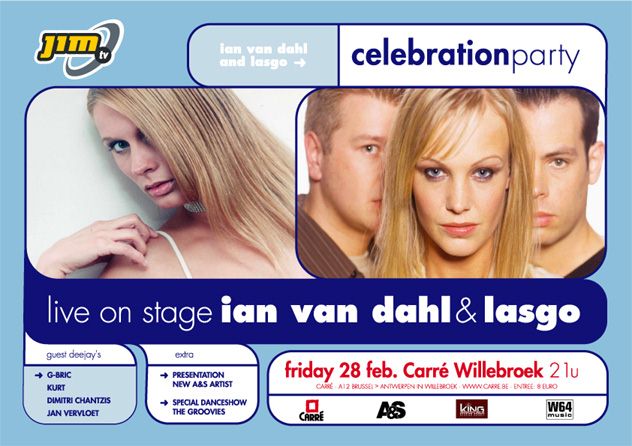 In March 2003 Lasgo visited Brazil for the first time. The tour started in So Paulo and the songs Pray, I Wonder, Searching, Alone and offcourse Something made the crowd jump and dance all night long.
The fourth Lasgo single: Surrender was released on vinyl in October 2003. It was the first single from the album Far Away. Surrender was released on CD single in January 2004 in Belgium. The worldwide release was set on February 2th in Germany, Austria, Switserland and the Netherlands. The UK followed later in April 2004.
In March 2004, Lasgo won their second award (Best Hi-Energy / Euro track with Alone) at the International Dance Music Awards in Miami (USA). The year before they won the Best New Dance Artist Group-award.
At the MIDEM 2004 music conference in Cannes (France), Lasgo was one of the winners of the European Border Breakers award. This award, given out by the European Commision, wants to enhance the exchange/export of popmusic across country borders.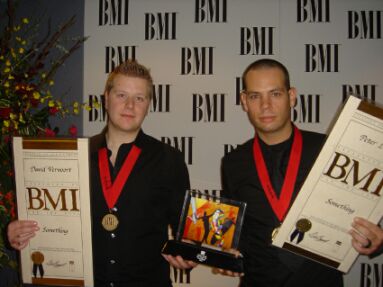 In October 2004, Lasgo was again awarded for their hitsingle Something. At the BMI Awards ceremony held in the Ballroom of London's Dorchester Hotel they received the USA Pop 2003 and USA Dance 2003 award – the first belgian group that ever did that. BMI is the American sister organisation of eg. the Belgian SABAM and the awards recognize the great popularity in the US as measured by broadcast performances and playlists. (objective data). Other BMI Award winners were Sting, Seal, Van Morisson, T.A.T.U., Queen, Elton John.
Lasgo ended 2004 with a new single (the second single of Far Away), called All night long. The video showed Evi as Little Red Riding Hood and the song had a distinct Electro feel, making it one of Lasgo's best. It was released on vinyl on December 20th 2004 and on cdsingle in January 2005. All Night Long went to the number 1 position in Belgium's dance club chart and reached the number 8 position in the Ultratop 50. Although it was not as successful as Surrender, it did manage to chart in the Dutch top 40 (stopping at the number 13 position).
January 2005 also saw the release of the Far Away album, which reached number 15 in the Belgian charts and charted for 10 weeks. With Evi expecting a baby, it was decided that the third single from the album would be Who's That Girl. The vocals for this track were done by Dave Beyer, who started his singing career as a contestant on Idols (2003). It was the only time a Lasgo track had male vocals and, unfortunately, it did not perform that well and only reached the number 22 position in the Belgian top 50. The final cut from the Far Away album was Lying, which was released in October 2005. Although Evi returned for this track and it did manage to get into the top 20 (peaking at number 16), it was only a minor success for Lasgo and didn't chart outside of Belgium. After this, all became a bit quiet concerning Lasgo with only a special release for the US market of Hold me Now in june 2006.
Lasgo : a new beginning with a new vocalist
It became clear that all was not well with Lasgo as we knew it. Officialy, the story was that Evi Goffin was not returning to the band seeing that she wanted to become a full-time mom, but rumour said that she was forced to leave the band. In 2008, after almost 3 years of radio silence, Peter Luts announced the come-back of Lasgo without Evi, stating that it was his intention to launch a search for a new vocalist for the band. This search would be shown on the Belgian music channel JimTV on the show Let's Go Lasgo . At the end of the show, the very attractive 18 year-old Jelle Van Dael was chosen as the new leading lady of Lasgo and not long after, the new Lasgo single Out of my Mind was released.
The new single generated lots of interest, charting for no less than 23 weeks in the Flemish Ultratop and reaching the number 7 position. Moreover, the track also generated buzz in the US where it also reached the number 7 position in the Billboard Hot Dance Airplay charts. The track was undoubtedly boosted by the very sexy video and general strong media attention Jelle received (with, for instance a 8 page spread in P-magazine).
It was also now that Evi, after years of silence, started to give interviews again and announced that she would return with her own project. In a Flemish magazine, Evi said that she Evi fell out with the management of Lasgo, with both financial and personal arguments making her life very difficult. Moreover, her contract restricted her from starting up a solo career.
The new single Gone was released in March 2009 and quickly climbed into the top 10 of the singles chart.  Lasgo's third new album is also expected to be released soon. 
Discography
Single CDs
Something
Pray
Surrender
All night long
Who's That Girl
Lying
Out of my Mind
Gone
Full CDs
On November 19th, 2001 Lasgo released their first full album called Some things.
Some Things
Intro
Something
Heaven
Blue
Don't belong 2 U
Follow you
Cloud surfers
Alone
Cry
Pray
Feelings
Something (Peter Luts remix)
Alone (Ian Van Dahl remix)
In January 2005 Lasgo will release their second full album. It's called Far Away.
Far Away
Surrender
All Night Long
Deep In Your Heart
Far Away
Lying
Only You
Still
Tell Me
True
Yesterday
Who's That Girl
Tonight
Hold Me Now
Remixes
Something (Jimmy Goldschmitz remix)
Something (Peter Luts remix)
Something (Extended mix)
Something (Flip & Fill Remix)
Something (Mirco De Govia Remix)
Something (Kenny Hayes Remix)
Alone (Peter Luts remix)
Alone (Ian Van Dahl remix)
Alone (Extended mix)
Alone (LMC remix)
Alone (Dj Shog remix)
Alone (Hiver & Hammer remix)
Pray (Extended Version)
Pray (Peter Luts Remix)
Pray (Dave McCullen Remix)
Pray (Driftwood Remix)
Pray (Kidjement & Kovac Remix)
Pray (LMC Remix)
Pray (Flip & Fill Remix)
Surrender (UK Radio edit)
Surrender (Extended)
Surrender (Peter Luts remix)
Surrender (Cor Fijneman remix)
Surrender (Jan Vervloet remix)
Surrender (Pulsedriver's Vox Rmx)
Surrender (Pulsedriver Dub Remix)
Surrender (Ronald Van Gelderen Rmx)
Surrender (Mccullen vs Moldenhauer remix)
Surrender (McCullen's Outlaw Mix)
All night long (Extended Mix)
All night long (McCullen Und Ritter Mix)
All night long (Peter Luts Remix)
Who's That Girl (Radio Edit)
Who's That Girl (Peter Luts Remix)
Lying (Radio Edit)
Lying (Peter Luts and G-Bric Remix)
Out of my Mind (Radio Edit)
Out of my Mind (Original Mix)
OUt of my Mind (Sebastian Dali Remix)
OUt of my Mind (Felix Project Remix)
Welcome !
to DanceVibes, the site dedicated to belgian electronic music. We bring you daily updates on all that is happening in the dance scene.
more about dancevibes.be
Cool sites
Check out these sites:
Archives
Not so fresh news: