L.A. Work
Biography
L.A.Work, alias Louvet Alexander, has already been on the music scene since 1990. This artist, producer & remixer, coming from the German -speaking part of Belgium, is for insiders a far from unknown figure who got international recognition in the past for the maxi-singles such as In Memory of…, Get ready Make Love, Is It Real…, Crazy Boy and Imagination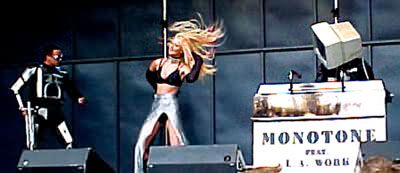 In 1994 Alexander founded his own label namely the A.L.C. Productions, which included production, publishing, graphics and promotion. He still promotes most of his productions himself! At Midem (Cannes) 1995 , the international trade show for all music genres which sets the trends for the coming year, Alexander was offered and signed a worldwide contract thanks to Is It Real…. This track was a co-production between No More/EMI Music Publishing and was produced by Serge Ramaekers and Dominique Sas (welknown for Sound of C and Living on my own)
The follow ups of this single became Crazy Boy and I Like Sex and were really compatible with the lifestyle of L.A. Work:Be crazy and have fun!
In 1997 the maxi single Diamond In My Heart was released and presented for more than 10 000 people in Germany. The band confirmed to be one of the best belgian dance acts.
1998: L.A. Work created a new project called Monotone feat. L.A.Work signed with Byte Records.
Welcome !
to DanceVibes, the site dedicated to belgian electronic music. We bring you daily updates on all that is happening in the dance scene.
more about dancevibes.be
Cool sites
Check out these sites:
Archives
Not so fresh news: