2 Fabiola – Zohra – Pat Krimson – Nunca – Punk City
Biography
During the eighties Patrick Claesen, aka Pat Krimson played in a pop group called Blue Garden, where he played bass guitar for a few years and at the same time he was deejaying in several clubs in Limburg (province in Belgium). Actually he studied hotelmanagement but from the moment he started working with Antler Subway (april 1989) he knew music was his life. Together with the Jeff Vanbockrijck, sound engineer of Blue Garden and collegue at Antler's, he formed a producersduo "Hypp & Krimson" and released several dance projects like Cold Sensation, Hypnotyz, Miss Nicky Trax and Ravebusters.
In 1989 he started as a keyboard player of a group called Leopold 3. It was a succesful young group performing only in Dutch, but they decided to quit in 1993.
In 1993 he created the Dance Opera label and organised with Star Events the Dance Opera Trips in Hasselt, which were the first big house parties in Belgium. In 1995 he invented the Dreamland Nights in Halen.
Patrick wanted to get his share of the dance hype and therefore began to produce dance products on his own label. One of these products was The Milky Way, the first production under the name of 2 Fabiola. This name was chosen after the Belgian Queen at that time (Fabiola). (Leopold 3 was a Belgian king). The second record Play this song was an extremely catching dance track that soon turned out to be a mega formula for their success on the Spanish and Italian music market. The results were 4 weeks number one and for about 6 months a ranking in the official Spanish top 10. This Mega formula didn't pass unnoticed in the Italian charts either: n 15 in the official Italian charts. Meanwhile, 2 Fabiola came to be a real band, gradually conquering the European continent with its extravagant looks and strong live-act.
The group involves Zohra (singer, dancer) and the sexy gogo dancer Fabio (who stayed with the group until the single Magic Flight). The background vocals where done by Carine B. On stage Pat Krimson is the keyboard man. Andrs Romero, a well-known Belgian producer/composer/remixer from Spanish origin, took part in the creation of many hits. Zohra was born on September 8th, 1975. She talks Dutch very well, but her mother tongue is French and she's Turkish. She's keen on different sort of kicks : benji, parachute…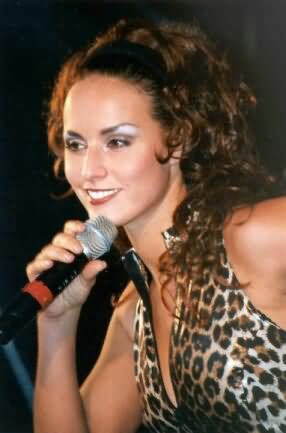 Zohra
The successor record Lift U Up became a huge success once again in Spain and Italy, and this time the Belgian charts didn't let this second success formula go by unnoticed: 5 weeks number 1 in the Ultratop 30. And on the top of that, Lift U Up won an award for best Belgian production. The Golden record resulting from these magnificent sales figures, was presented on Friday, June 21, 1996 at club RIO in St.-Katelijne Waver in Belgium. The band was absolutely thrilled with this recognition and said it hadn't expected this kind of success.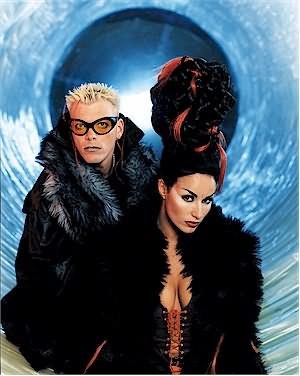 2 Fabiola: Zohra and Pat Krimson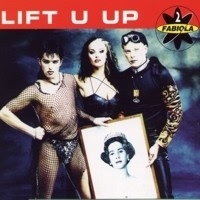 Lift U Up single cd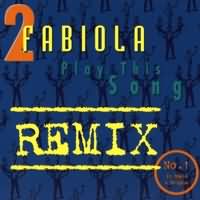 Play this song single cd
In October 1996 the band launched its big Christmas offensive : a X-mas single (the ballad Universal Love), for the Belgian market only, and a debut double album was also released. The Tyfoon album, including the hits I'm On Fire, Lift U up, Play This Song and many more, went gold in Belgium. The new single Freak Out, was also doing very good.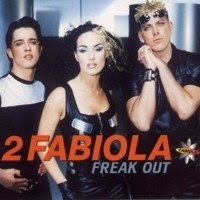 Freak out single cd
In November 1997 Fabio leaves the group to concentrate on giving dance lessons and 2 Fabiola takes a break to come back 2 months later with a completely new manga look and music style. (with the single Flashback). During this break Pat Krimson brought out Paranoid in Moscow.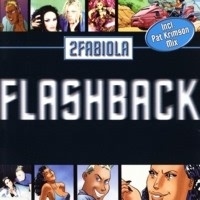 Flashback single cd
In 1998 they took a second break during which Pat Krimson produced the songs Taboo Bells and My Playground. Zohra released her first solo single I Hate 2 Love U.
Afterward (end of 1998 they released their single Sisters & Brothers, which was not a big success, followed by the single Feel The Vibe and the second album Androgyne. Pat Krimson described Androgyne as a CD where they did their own 'thing' without making confessions to the laws in the commercial dancemusic world. Older hits like Flashback and Zohra's I hate to love you were still present, but also songs that went from Techno to Speedgarage to Disco style.

2 Fabiola – Androgyne


2 Fabiola – Androgyne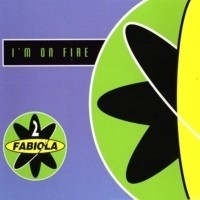 I'm on fire single cd
In 1999 Pat Krimson started a new project with Nunca. The group consists of Shauna (born May 9th, 1971) – the singer – and Shane (born June 19th, 1970) – the fire spitter. Their first single is called House of Doom (a superb dancesingle in my opinion) and obtained a golden record and a TMF-Award for best single. Follow-ups are Movin' train, Voodoo (also very good imo) and Hypnotyze.
During the TMF Awards of October 22nd, 1999 the new 2 Fabiola is presented. Medusa (Evy Goffin) takes the place of Zohra. We all know Evy Goffin now as the singer of Lasgo !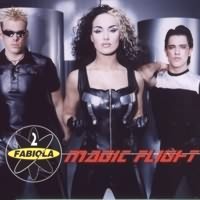 Magic flight single cd
Only two 2 Fabiola singles were released with the voice of Evy: New Year's Day, a trancy U2 cover and Summer In Space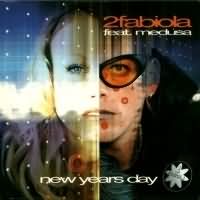 New Year's day single cd
In September 2000 Pat Krimson moved to Ibiza with his girlfriend Ann Vervoort (ex-singer of Milk Inc.), which marked the end of 2 Fabiola and Nunca. Pat started a dance record label called Benimusa Records named after the village they were living in.
In April 2001, Pat Krimson and Andres Romero renamed Nunca to Nunca Brothers and launched the first single The Night Goes On & On with a new sound, new people and male vocals ! Also this year, the song Es cubells was released under Pat Krimsons name.
Zohra is now (October 2001) going solo as Punk City (together with producer Kris Vanderheyden behind the scenes) and her first single is the The Mission.
The return of 2 Fabiola …
In 2008, 2 Fabiola returned to the dance scene with 2 new female vocalists: Viola and Loredana.  They release Blow Me Away / We Love The 90ies mid 2008 and immediately start to tour again. Early 2009, 2 Fabiola announced that they will release a new version of Lift U Up 2009.

2 Fabiola – Lift U Up 2009 MP3 at at 7Digital

2 Fabiola – Lift U Up 2009 at GEMM

2 Fabiola – Blow me away at Proxis.be

2 Fabiola – Blow me away at GEMM
Discography
Single CDs
Single CD's by 2 Fabiola:
The Milky Way
Play This Song (1995)
Lift U Up (1996)
I'm On Fire (1996)
Universal Love (October 1996)
Freak Out (1997)
Magic Flight (1997)
Flashback (1998)
Sisters & Brothers (1998)
Feel The Vibe (1998)
New Years Day (1999)
Summer In Space (Spring 2000)
Blow me Away (2008)
We love the 90ies (2008)
Lift U Up 2009(2009)
Single CD's by Pat Krimson:
Single CD's by Nunca:
House of Doom
Movin' Train
Voodoo (December 1999)
Hypnotize (May 2000)
Joy (The night goes on) (by the Nunca brothers) (April 2001)
Single CD's by Zohra:

Zohra – I hate 2 love U at GEMM


Zohra – Look up at GEMM


Zohra – Serious at GEMM


Zohra – Surrounded by a dream at GEMM


Zohra – Hurricane of love at GEMM
Single CD's by Punk City:

Punk City – Mission at GEMM
Full CDs
Full CDs by 2 Fabiola:
Tyfoon (1996)
CD1:
Freak Out (Radio mix)
I'm On Fire (Radio Mix)
Lift Me Up
Universal Love
Show Me The Way
Lift U Up (Emotional Mix)
I See The Light (Dreamland Mix)
A World For U And Me (Adams & Krimson Atmoz Mix)
Piano Latino (DJ Jan mix)
Play This Song (Ultimate radio mix)
Raise Your Hands (DJ Joan mix)
Lift U Up (E-Raver RMX)
My Attitude (Jazzy club mix Feat. Johnny Kelvin)
CD2:
I'm On Fire (Regg & Arkin mix)
Bang To The Rhythm (Sax Mix)
Play This Song (Adams & Krimson mix)
Show Me The Way (Hi-tech mix)
Piano Latino (Extravaganza mix)
Fireside (Underground mix)
Androgyne (1998)
CD1:
Sisters & Brothers
Stargate 5
Kinky (2 Fabiola remix)
Ragazzi
Feel The Vibe
Flashback
I Feel Like U
Trippin On Air
I Hate 2 Love U
Open Your Heart
The Afterparty
Magic Flight
CD2: (Club mixes)
Stargate 5
Sisters & Brothers (Oliver Adams Dub Mix)
Kinky (2 Fabiola Remix)
Feel The Vibe
Flashback (Nico Parisi Remix)
Magic Flight (Blue Monday Mix)
I Hate 2 Love U (Zohra In Wonderland Mix)
I Feel Like U

2 Fabiola – Androgyne


2 Fabiola – Androgyne
Full CDs by Pat Krimson:
The Milky Way (June 1998)
Kinky (Magic bells mix)
My playground (Atmoz remix)
Taboo bells (Voodoo mix)
Atmozfear (Sky-surf mix)
House of doom (Atmoz remix)
Tapas Chi chi (2 fabiola remix)
Paranoid in Moskow (Torpedo mix)
Voodoo queen (Aqualords remix)
Guri guri (Top 21 mix)
Angels of dreams (Eternally mix)
Piano latino (Dj Jan progressive mix)
Arena (Flower mix)
Do you know
Ballistique (God of dreamland mix)

Pat Krimson – The Milky Way at 7Digital

Pat Krimson – The Milky Way
Welcome !
to DanceVibes, the site dedicated to belgian electronic music. We bring you daily updates on all that is happening in the dance scene.
more about dancevibes.be
Cool sites
Check out these sites:
Archives
Not so fresh news: