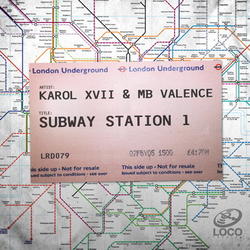 The duo Karol XVII & MB Valence can certainly be ranked as Poland's greatest talents especially when speaking of Deep House in its truest sense. The two owners of the respected Loco Records label have been working hard recently in order to return with another round of deep house goodness on the label by means of a three tracker entitled "Subway Station". The new series is composed of absolutely genuine productions that reflect the artists' generous souls abundant in deep house grooves which will be easily recognized while taking a thorough listen to their new EP. Even though it has taken a while for the duo to return with a new release after their successful "Plastic Age EP", it has been worth waiting as their remarkable skills have only refined which can be noticed in these three stunning tunes included in the EP: "Ain't Nobody", "Panic!", and "Obviousness". The entire release delivers awesome music at the highest production level, so it is a definite must in any box.
The release is now available on
Beatport
.
Below, there is some selected feedback:
Spirit Catcher - Good stuff ! Like "Ain't Nobody"
Maya Jane Coles - will give "Obviousness" a spin for sure!
Pol_On - Full support from Pol_On for our friends from Loco Rec, great release !
Richie Hawtin - downloaded for r hawtin
Horatio - some great stuff here
CJ Mackintosh - Loving Ain't Nobody
M.A.N.D.Y. - Thank you for Good Music!
Tedd Patterson - Great job! Loving both "Aint Nobody" and "Obviousness". Really cool cuts. Thanks Got wavs??
Giom - Great stuff!
Kellerkind - Obviousness sounds cool, will play, thanks
Mark Knight [Toolroom] - cool beats
Jose Padilla - is ok
Robert Owens - Great tracks
Jask - very nice! really nice work
Ralf Gum - Nice Tune
UGLH - Cool tracks thanks
Sebastian Davidson [Nightbird Music] - Great pack!!! Thanks!
Lukas Greenberg [Plastic City] - support
Jevne [Onethirty] - dope!
DJ Roog - nice!!!
Feodor AllRight & Elena Mechta (AMDJS Radio Show) - Quality.
Spiritchaser (Bamo) - Very cool, Thanks guys!
Clara Da Costa [Ibiza Sonica Radio] - Loving panic.
Carl Cox / Yousef - Downloading for Safehouse DJs
Sven Jacobsen - Awesome EP again, Panic and Obviousness are bombs
Michael Fossati [Spirit of House] - Ingenious truly versatile deep house release, with the mesmerizing utterly melodious "Panic" being my pick
Dean Serafini (Jjazproject) - Ain't Nobody has got to be the one for me. The deep bassline, crisp rhythms and cool vocals work very nicely indeed.
Greg Fenton [M8 Mag] - Panic! for me thanks
Calin Marian [Tunnel FM] - Love you're new sounds guys. Full support, thank you
DJ Mannix - awesome EP simply!!! Ain't Nobody is out of this world!
Farfan Deep - nice music, support !
Taylor [Overload Radio] - a great dancefloor weapon for nye tonight
Miguel Garji [Ibiza Global Radio] - Always special tracks here. Supersupport, gracias
Evren Ulusoy - panic and obviousness doing it for me. thanks and happy new year.
Andy Fransis [Club Life Global] -
http://clublifeglobal.com/new-releases/ ... -station-1
This is such a great ep love it every track is a sure fire deep house hit! Also great cover guys
Kev Obrien - aint nobody for me... nice groove , nice work with those vocal cuts too, very cool. cheers guys!
John P. [Westradio.gr] - great tracks! full support by west radio! happy holidays! Craig Stewart - Stunning 3 tracker, very, very tasty!
Yves Murasca - all three tunes are dope! support!
DZeta N Basile Music - Obviousness is our pick, will play it!
Prun 92FM - Good vibes in it, maybe soon on Prun'
MR Cenzo (MidiDropMusic) - Great work as usual here, 3 cool cuts for the true underground...
Will Sumsuch - Strong release- really liking all three tracks here! Proper.
Sezer Uysal - Obviousness is really nice track, thanks !